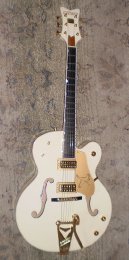 Sherman Allen
Gretsch Story
The night Gretsch happened for me was not The Beatles on Ed Sullivan (I was watching, but, at 4 years old, the subtleties of Hi-Lo 'tron pickups eluded me). Not when I bought my first Atkins LP, even though I used to stare at the Chester and Lester album cover, dazzled by the banks of toggle switches on that white hollowbody. Not the MTV Stray Cats videos. Loved 'em, but I'd already devoted my life to hardtail Gibsons by then.
Doug Fieger, the Knack frontman who wrote and sang "My Sharona", was gravely ill by 2009, and he asked for my help. I work in the vintage guitar and amp world, and my old friend was facing the business of, as the phrase has it, Putting His Affairs In Order. For some months, on Tuesday afternoons, I would leave my work in West Hollywood, and spend a couple of hours at Doug's Woodland Hills home, attending to the details of liquidating his lifetime's accumulation of guitars and amps. On Tuesdays, my residency at Hollywood's Pig 'N Whistle would force me to get a "Doug Hug", and head back to The Strip. Weary of watching his beautiful guitars languish, unplayed, in their cases, Doug began to insist that I take a different piece each week, and play it for a small crowd that would never suspect that I was playing a REAL Rosewood Telecaster, a REAL 1961 SG, or a REAL 1952 ANYTHING.
One night, Doug sent me off into the night with a Gretsch White Falcon. Now, I'm five foot six on a good day, so it never crossed my mind to play a 17″ hollowbody. I'd never used a Bigsby in my life.
Well…
Two hours later, every guitar player in the nightclub was high-fiving me, and my life has not been the same since.
I have never known how to really talk about receiving that very guitar as a gift from Doug in the wake of his passing. But musicians will understand the feeling of falling really, truly, madly, deeply in love with the guitar they were meant to play.
I miss Doug every day, and I hope he'd be pleased.
Pictured above: Doug's Gretsch White Falcon which Sherman now owns.