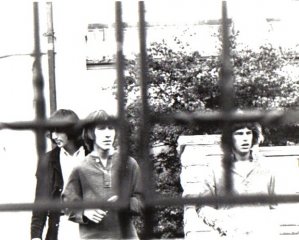 Robert Greenfield
I first met Doug in 1966. My mother worked with a woman, who's son, Bobby Boyle, knew John Coury. Bobby Boyle lived down the street from Doug and I would go to the Boyle house to play drums with him, John, and Doug. I was about seventeen, and Doug, thirteen. One day, Doug called to ask if I wanted to be in a band. (I remember when Doug used to call me his voice was so high, I thought it was a girl.) Sky was born.
We started out doing all Beatle tunes, and practiced harmonies for hours at a time. In fact, we got so good at harmonies that once when we played in the basement at a fraternity party, everyone stayed upstairs 'cause they thought we were a record. John was the slave driver. His motivational statement was a quote that his father, Charles Coury, used to say: "You always meet the crisis, with the habit's of the usual". That came in handy, when we opened for The Who one night. Our PA went out, and we couldn't hear ourselves (but it didn't matter because our harmonies were second nature to us.)
Pretty soon Doug and John started writing some really good songs. We went from a cover band to an original band, at a very young age. We played hundreds of gigs, around Detroit, opening for many of the major acts, such as The Who, Joe Cocker, Jeff Beck, etc., at the legendary Grande Ballroom. Our manager was Russ Gibb, the owner of The Grande. Russ called us one night, and told us to go to meet Traffic at the hotel before their gig. We hung out with them and became friendly. Later we played on the same ticket with them at the Cincinnati Pop Festival. All the bands stayed at the same hotel for that show and after the gig Steve Winwood came to our room and played acoustic guitar with John for a long time.
It was at a party at Russ Gibbs house where Dave Mason of Traffic, gave us Jimmy Miller's (producer of The Rolling Stones and Traffic) number/address. John and Doug wrote a letter in Doug's hand and asked him to listen to us. When Jimmy called the house, Doug's father gave the phone to him, and said a guy named Jimmy Miller is on the line. Doug answered, and kept saying, "Come on John… I know it's you." He just didn't believe it was really Jimmy Miller.
He said he was coming to America with his business partner, Tony Secunda. He made a pit-stop in Detroit on his way to LA. Since we weren't playing the Grande that night he came to Doug's parents' house and we played for him in their basement. The next day Jimmy Miller told us he would like us to come to London to produce us. That was the goal we had worked so hard for. In July of 1970 we flew to London.
Though Sky didn't endure, our friendship, and love for each other has. I miss you Douglas Lars.
Love,
Robert Greenfield.