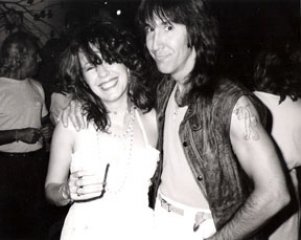 Pamela Des Barres
Every single day I miss my darling Doug. He was a man I could always count on in this wacky, unpredictable world, no matter what – a rare distinction indeed.
From the time we met at the Knack's 'coming out' party, Doug was a snappily decked-out fixture at every one of my whing-dings, usually arriving before anyone else – always, always with a shining grin on his face and some sort of yummy potluck contribution, a 6 pack of non-alcoholic beer or a bouquet of flowers. He never had to worry about being 'fashionably late' anyway, as he was always the best-dressed person in attendance no matter when he came sparkling through my door.
When I needed help of any kind, chivalrous Doug was at the ready, untangling Christmas lights for my 8-foot tree, singing a song at my birthday party, taking me for radiation treatments when I had breast cancer. His respect for women was well-known. Whenever we approached any kind of door, he was there first, gallantly opening it for me like a gentleman from days gone by. He would take me by the hand I'd alight from his big ol' truck like some sort of elegant damsel. We could talk about anything and everything. Even though he was opinionated and obstinate sometimes, we always came through any kind disagreement unscathed and happily weary from our verbal jouncing.
Doug was a one-man pop encyclopedia, and had such sincerity when he sang. We had a shared adoration of music of all kinds. I remember one gorgeous night when he picked up my old Gibson and serenaded me with every Beatle song I asked him to sing. It was breathtakingly beautiful, etched in my heart for eternity.
I loved Doug's music. I saw the Knack play whenever possible and marveled at how he absolutely owned the stage. Doug was supremely comfortable up there and exuded an inimitable combination of serenity and excitement that heightened everyone's experience to the peaking point. I remember a particular steamy summer night at the Santa Monica Pier, when I was so caught up in the throb and thrum and power of the Knack that I actually thanked my lucky stars that I was there to behold it.
One mid-nineties evening, I was performing a spoken-word event with my pal Cynthia Plaster Caster at the Viper Room. Doug was, of course, one of the first to open the backstage curtain and cheer me on, easing my jangled nerves with his total belief that I would do a good job. Something clicked that night, and after a couple of decades of an excellent friendship, we decided to give romance a go-go, and gave it a whirl. Never one to skimp, Doug took me to his beloved Paris for a week. We went to the tip-top of the Eiffel Tower, and he proudly took this Disney-doll all around sunny Parisian Disneyland, happily watching me swoon, buying me any Dopey-Dumbo-Mickey trinket that entranced me. Even though we eventually realized romance was not in our cards, our deep, abiding friendship continued without a hitch or a hiccup. I think our little foray into intimacy actually strengthened our bond; I adored him even more for showing such elegance, grace and maturity in what could have been a touchy situation. His devotion to his friends never waned or varied. If he loved you, you knew it. It was a lifelong commitment, and it went both ways.
When Doug found out he had cancer, I was in the throes of my own bout with the Big C and we often compared and commiserated. He kept me from falling into the scary abyss more than once, and I am eternally grateful for his unfailing devotion and support.
Doug and I laughed, wept, howled at the moon, argued, made dinner, made love, danced, dreamed and delighted in each other's company for over 30 years. I still expect him to walk through my door in his bright orange velvet trousers, handmade Beatle boots and pristine white turtleneck, with a smile that lit up my life so beautifully, it will always shine like his beloved Parisian sun, oh so brightly in my heart.