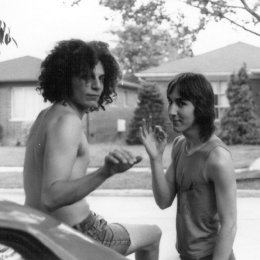 Don Was
doug fieger burst into my life on the first day of 8th grade, september 1965… he'd been expelled from a private school for refusing to abide by their dress code and seemed determined to wave his freak flag high… he emerged from his mom's car like a brian jones carnaby street tornado and didn't even make it to the front door before some kid called him out over his pink spanish boots… don't remember the exact insult but the word "sissy" loomed prominently. like a mod bruce lee, doug punched his way into school: next day, the other guy turned up with a cast on his newly broken hand and the rest of us understood that we were dealing with a formidable and tenacious cat. he became one of my closest friends and was the first to turn me on to are you experienced, sgt pepper and fresh cream… doug was very, VERY, serious about music… i don't just mean that he practiced the guitar for six hours a day – i mean that music was the cornerstone of his Being… to say that he lived rock n roll sounds like such a trite cliche but he ACTUALLY DID live a life centered around rock n roll! i went over to say goodbye to him the day before he died… at age 57, his home was still a paean to the music he loved… shelves were filled with his massive record collection and with books about rock n roll… vintage guitars, amps and spotless tube recording equipment were displayed throughout the downstairs… the centerpiece of his dining room was an authentic 1964 ludwig black oyster drum kit – with the iconographic beatles front head logo – that was given to him by his friend, ringo starr.
in 1978, as my sharona topped the billboard charts, i was destitute in detroit. doug unflinchingly bailed me out of my dire financial straits with a considerable loan – enough to tide me and my family over for the year it took to secure a record deal for was (not was)… without his generosity and friendship, i would never have made it to the point where, in the early 1990s, i was able to produce the knack's serious fun album. shortly after that, we began what was to become his solo record, first things first. doug's total commitment to that record combined with his unique brand of joie de vivre made those sessions one of the most enjoyable experiences of my life. we didn't argue about the tracks… there was absolutely no point in disagreeing with him about anything! he knew EXACTLY what he wanted and it was highly rewarding to help him get there – especially surrounded by cats like nicky hopkins, billy preston and jim keltner. the budget was miniscule – we had enough bread to record around the clock (sober!) for about a week… twenty years later, i remember it like a camping trip – a bunch of guys sitting around the 'fire' (that beautiful old neve rca 8028 console in oceanway studio 2) relaxing, telling stories and singing songs… there was a lot of joy in those tracks! i guess that, over the years, he went back and added to those recordings… i can't wait to hear the final results…
last month, i was in detroit for our 40th high school reunion and ran into 'uncle' russ gibb – the former owner of the legendary grande ballroom and doug's first manager when he was in the group, sky… "even as a young man, your buddy could be argumentative and opinionated," said russ, "but there's no doubt that he was a genius and a lovely, extraordinary guy!" amen…..