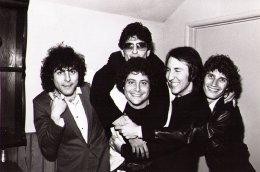 Bruce Ravid
They say a guy never forgets his first, and that's certainly true for an A&R guy and his first signing. My first was The Knack. I got to be part of something truly spectacular at the time, and part of something that will last eternally. For me that not only meant lifelong friendships with the band, but also with many of their friends and fans. Their music has touched many millions, and Doug always said it was about having fun. We all know what happens when we encounter a fellow Knack fan. They get a gleam in their eye that exceeds how they might react to the mention of almost anyone else. I've long felt that if Nirvana's "Smells Like Teen Spirit" was the gateway to the 90's, then "My Sharona" was the gateway to the 80's.
People often congratulated me on "discovering" The Knack. As much as I appreciated the kudos, that was far from the truth. Just after my arrival in Capitol's A&R Department, The Knack quickly became the talk of the town. I saw the band at The Troubadour and immediately fell in love with them. So did about fourteen other labels, as it turned out. My strategy for winning this battle was to get the Capitol Tower excited about them, from top to bottom. While other labels would have one or two people show up, we had everyone from executives to assistants Getting The Knack at their live shows.
Doug had a heart the size of the universe. He always had a clear view on things and after becoming sober in '83, he helped countless other people get their lives together. Doug was often called upon to council well-known artists because he could relate to them so well. Kurt Cobain was a huge Knack fan. Doug was scheduled to meet with Kurt at the rehab center, but the Nirvana singer went AWOL and killed himself. Doug always wondered if maybe he could have had an effect, but he also felt that what happened with Kurt was thus meant to be.
Doug and I had dinner and saw a movie every few weeks. He was one of those brilliant people who were conversant on virtually everything. It always amazed me that while Doug didn't closely follow the news, he could still speak in depth on any current topic. I'm sure you know he was one of the world's biggest Beatle fans. When Doug married Mia on a Maui beach, he sang "I Will" to her. What a moment! I was with Doug and Sharona the night John was murdered. When we heard the news, Doug reacted like many of us did, times three. Once we recovered, we went out for French food, to celebrate Lennon's life. John probably would have wanted it to be that way.
I interviewed Doug for my annual Madison winter radio marathon in January, 2007. We talked about things like the writing of "My Sharona" and how he worked with other musicians who had abuse problems. You can hear it here.