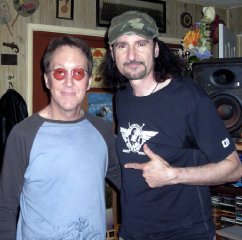 Bruce Kulick
I worked with Doug Fieger for the first time at the Rock and Roll Fantasy Camp in Hollywood, CA. It was back in 2007, and it was a huge camp. Doug was as overwhelmed as I was but I was truly excited to meet him and to have the pleasure to back him up on guitar for the big Knack hits. I do remember seeing him at Norm's Rare Guitars in Reseda, but not having any real conversations with him.
When we performed "My Sharona" for the campers I was thrilled. I will never forget driving on the Grand Central Parkway in Queens back in the day, hearing that song repeatedly and knowing this is a song that will live on forever. Doug's attitude and emotion really comes through on that track. We also performed "Good Girls Don't". I love the "tongue n cheek" vibe of that song.
What I remember mostly with Doug was our conversations about gear. I found out he was a big Beatle nut, and that being my favorite band, made for easy conversation. Somehow Hofner basses came up and I remembered he said that McCartney's bass made some of those Beatle tracks come alive and I knew I would have to try one.
Well a few years after that conversation, I was a proud owner of a 1966 Hofner Beatle bass. Thanks to Doug of course. And I played a friend's 1965 Hofner on a track on my solo CD. (That forced me to buy one for myself). Speaking of my solo disc, when the three year process of "BK3"my most recent solo CD was being recorded, one of the songs written by myself and my producer Jeremy Rubolino, was a poppy power track that needed a singer like Doug. Of course we made a killer demo, and I called Doug. He said for us to come on over, and what an amazing home he lived in! We got the full tour, (shoes off please!) and saw vintage guitars, amps, etc, and we had some severe jaw dropping at his treasures.
Doug thankfully loved the track, and said finish the lyrics and let me know, I will sing! Jeremy and I were stoked and when the recording session was to happen, Doug was in and out of the studio in an hour! Total pro. The song called "Dirty Girl" was named #29 of 50 best songs of 2010 in Britain's CLASSIC ROCK magazine. It has been a key song on my CD and I am grateful for Doug's performance. I released the CD on Feb 2rd, 2010 so Doug was able to see the full package of my solo disc. It meant a lot to me to know he enjoyed the song and the work done on the CD.
Besides seeing him live with The Knack a few years before his passing at the park in Woodland Hills, I knew Doug had some famous friends. But keep in mind, I had never met a Beatle in person. And there I was at the sad but spirited memorial at Doug's home after his death. Suddenly Ringo, Jeff Lynne and Joe Walsh walk in and I nearly fell down! I have jammed with and met many stars, but that was a powerful trio walking in. My girlfriend begged me to say hello to Ringo as oddly enough just a few weeks before the memorial I bought a nice photo of Ringo from 1966 on the drum kit that looked exactly the same as the kit in Doug's living room! I felt like Doug gave me a gift that day. As I spread his ashes in the backyard, as he requested I told him thank you for all you have done for me, both professionally and now personally!
The music world lost a wonderfully talented and passionate musician on Feb 14th, 2010. Fortunately I was lucky enough not only to meet and hang with him, but to also work with him. He will not be forgotten.
Bruce Kulick
Feb 2011