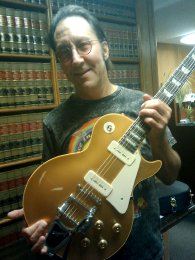 Brian McNelis
It is really because of Doug that I started playing guitar. Guitar is always something I thought I could never do. So at 42 years old, I thought, maybe I can do this – a lot of practice and a lot of patience and I should get better at it over time, maybe – if I stick with it. So I shared with Doug that I was going to attempt this journey of playing guitar, and that I was pretty much a one chord wonder. It was a big deal for me to pick up a guitar and do more than just hold it and hand it back to someone who could play it.
Doug provided tons of support for my pursuit of playing guitar and rattled off a whole list of big one chord songs. For the next couple weeks whenever I'd see Doug he'd make it a point to check in and see how I was doing with learning and was always supportive and offered his encouragement of the process.
It was that kind of support that I'd never gotten as a kid to think I could actually play guitar. So now two years later and I can bang out a bunch of open chords and scales and with the help of a computer for recording – I can knock out something that sounds like music.
Learning guitar has been the greatest gift ever, and I owe the encouragement to do so largely to Doug.
Pictured above: Doug's treasured Gibson '53 Goldtop Reissue which Brian now owns.