Discography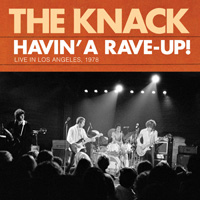 Released
Zen Records/ Omnivore Recordings
Produced by Produced by Richard Bosworth
Doug Fieger - Lead Vocals, Guitar
Berton Averre - Lead Guitar, Keyboards, Vocals
Prescott Niles - Bass Guitar
Bruce Gary - Drums
Additional Keyboards - Jimmy Haymer
The Knack – Havin' a Rave-Up
The Knack
Let Me Out (Fieger-Averre)
Your Number Or Your Name (Fieger-Averre)
Good Girls Don't (Fieger)
End Of The Game (Fieger)
Here On This Lonely Night (Fieger)
It's Alright (Andrews)
That's What The Little Girls Do (Fieger)
Evil Lies (Fieger-Averre)
Come A Little Bit Closer (Boyce-Hart-Ferrel)
Daughter Of The Law (Fieger-Averre)
Art War (Fieger-Averre)
(She's So) Selfish (Fieger-Averre)
My Sharona (Fieger-Averre)
(Havin' A) Rave-Up (Fieger-Averre)
Buy It Now:
We are thrilled to announce today that our efforts have paid off and Don't Hold Back and Sailor's Delight will be released online, worldwide, on April 12, 2011, on the Zen Records label.

Play On! Power Pop Heroes: Volume Three proudly featuring The Knack on its cover and a foreword by Berton Averre

Eight months after Fieger lost his long time battle with cancer, the Estate of Doug Fieger is releasing First Things First, a collection of the artist's songs never before available for digital download.

Featured Song

Download Flash Player to listen to songs by Doug Fieger

doug fieger burst into my life on the first day of 8th grade, september 1965... he'd been expelled from a private school... and seemed determined to wave his freak flag high...