Discography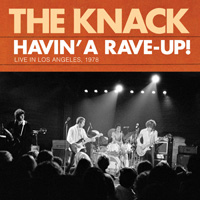 Released
Zen Records/ Omnivore Recordings
Produced by Produced by Richard Bosworth
Doug Fieger - Lead Vocals, Guitar
Berton Averre - Lead Guitar, Keyboards, Vocals
Prescott Niles - Bass Guitar
Bruce Gary - Drums
Additional Keyboards - Jimmy Haymer
The Knack – Havin' a Rave-Up
The Knack
Let Me Out (Fieger-Averre)
Your Number Or Your Name (Fieger-Averre)
Good Girls Don't (Fieger)
End Of The Game (Fieger)
Here On This Lonely Night (Fieger)
It's Alright (Andrews)
That's What The Little Girls Do (Fieger)
Evil Lies (Fieger-Averre)
Come A Little Bit Closer (Boyce-Hart-Ferrel)
Daughter Of The Law (Fieger-Averre)
Art War (Fieger-Averre)
(She's So) Selfish (Fieger-Averre)
My Sharona (Fieger-Averre)
(Havin' A) Rave-Up (Fieger-Averre)
Buy It Now:
The Knack is proud to participate in the August 14th charity release of Joey's Song For Kids: Vol. 2 by donating a track on the CD, which raises funds for kids with special needs.

The family of Doug Fieger, lead singer of The Knack and co-writer of the #1 song My Sharona, is making available for the first time,Hankerings: A Tribute to Hank Williams by Doug Fieger

First Things First is adult pop at its absolute best, perfectly capturing the joys and the disappointments inherent to being a grown-up in the twenty-first century.

Featured Song

Download Flash Player to listen to songs by Doug Fieger

Doug was my best friend. There are only a small handful of people in this world who even know what the hell I'm talking about in all matters of life and pop culture.