Discography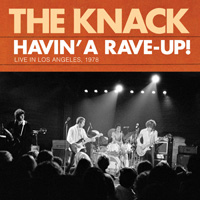 Released
Zen Records/ Omnivore Recordings
Produced by Produced by Richard Bosworth
Doug Fieger - Lead Vocals, Guitar
Berton Averre - Lead Guitar, Keyboards, Vocals
Prescott Niles - Bass Guitar
Bruce Gary - Drums
Additional Keyboards - Jimmy Haymer
The Knack – Havin' a Rave-Up
The Knack
Let Me Out (Fieger-Averre)
Your Number Or Your Name (Fieger-Averre)
Good Girls Don't (Fieger)
End Of The Game (Fieger)
Here On This Lonely Night (Fieger)
It's Alright (Andrews)
That's What The Little Girls Do (Fieger)
Evil Lies (Fieger-Averre)
Come A Little Bit Closer (Boyce-Hart-Ferrel)
Daughter Of The Law (Fieger-Averre)
Art War (Fieger-Averre)
(She's So) Selfish (Fieger-Averre)
My Sharona (Fieger-Averre)
(Havin' A) Rave-Up (Fieger-Averre)
Buy It Now:
This June 24th,a limited edition retrospective of works by Chris Wood will be released. Among the tracks will be "There In The Greenbriar," written by Doug. It's a great honor...

The family of Doug Fieger, lead singer of The Knack and co-writer of the #1 song My Sharona, is making available for the first time,Hankerings: A Tribute to Hank Williams by Doug Fieger

In this exclusive interview, Rob dug deep into his memory to answer some questions about his first band, "Sky"

Featured Song

Download Flash Player to listen to songs by Doug Fieger

I loved The Knack, Doug's writing and his onstage persona. It turned out, unknown to me, that he was a huge fan of my art.