Discography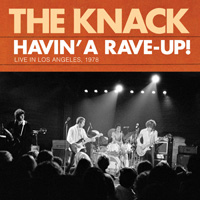 Released
Zen Records/ Omnivore Recordings
Produced by Produced by Richard Bosworth
Doug Fieger - Lead Vocals, Guitar
Berton Averre - Lead Guitar, Keyboards, Vocals
Prescott Niles - Bass Guitar
Bruce Gary - Drums
Additional Keyboards - Jimmy Haymer
The Knack – Havin' a Rave-Up
The Knack
Let Me Out (Fieger-Averre)
Your Number Or Your Name (Fieger-Averre)
Good Girls Don't (Fieger)
End Of The Game (Fieger)
Here On This Lonely Night (Fieger)
It's Alright (Andrews)
That's What The Little Girls Do (Fieger)
Evil Lies (Fieger-Averre)
Come A Little Bit Closer (Boyce-Hart-Ferrel)
Daughter Of The Law (Fieger-Averre)
Art War (Fieger-Averre)
(She's So) Selfish (Fieger-Averre)
My Sharona (Fieger-Averre)
(Havin' A) Rave-Up (Fieger-Averre)
Buy It Now:
The family of Doug Fieger, lead singer of The Knack and co-writer of the #1 song My Sharona, is making available for the first time,Hankerings: A Tribute to Hank Williams by Doug Fieger

The May 19th reissue of Zoom, with bonus tracks, new artwork and commentary by Berton and Prescott, has been generating some glowing reviews

First Things First is adult pop at its absolute best, perfectly capturing the joys and the disappointments inherent to being a grown-up in the twenty-first century.

Featured Song

Download Flash Player to listen to songs by Doug Fieger

I remember one gorgeous night when he picked up my old Gibson and serenaded me with every Beatle song I asked him to sing. It was breathtakingly beautiful, etched in my heart for eternity.