Discography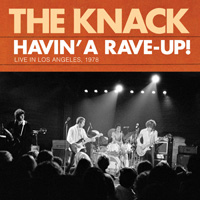 Released
Zen Records/ Omnivore Recordings
Produced by Produced by Richard Bosworth
Doug Fieger - Lead Vocals, Guitar
Berton Averre - Lead Guitar, Keyboards, Vocals
Prescott Niles - Bass Guitar
Bruce Gary - Drums
Additional Keyboards - Jimmy Haymer
The Knack – Havin' a Rave-Up
The Knack
Let Me Out (Fieger-Averre)
Your Number Or Your Name (Fieger-Averre)
Good Girls Don't (Fieger)
End Of The Game (Fieger)
Here On This Lonely Night (Fieger)
It's Alright (Andrews)
That's What The Little Girls Do (Fieger)
Evil Lies (Fieger-Averre)
Come A Little Bit Closer (Boyce-Hart-Ferrel)
Daughter Of The Law (Fieger-Averre)
Art War (Fieger-Averre)
(She's So) Selfish (Fieger-Averre)
My Sharona (Fieger-Averre)
(Havin' A) Rave-Up (Fieger-Averre)
Buy It Now:
October 5th is an exciting day in the lives of all Doug Fieger fans. Firstly, dougfieger.com comes online as the official site and online home of all things Doug. Filled with...

Besides tributes from the likes of Ringo Starr, Elliot Easton, Don Was and more, it [the website] makes Fieger's solo release, "First Things First," available digitally for the first time ever.

Even though the Knack have always been compared to the Beatles, they really were closer in spirit to early rockabilly (they even cover Buddy Holly's "Heartbeat" on Get the Knack)

Featured Song

Download Flash Player to listen to songs by Doug Fieger

I remember one gorgeous night when he picked up my old Gibson and serenaded me with every Beatle song I asked him to sing. It was breathtakingly beautiful, etched in my heart for eternity.