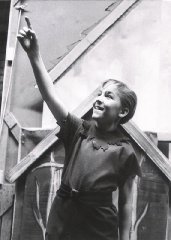 An Awfully Big Adventure
Doug Fieger started, like the Monkees' Davy Jones, as a child performer. Jones was the Artful Dodger in "Oliver" on Broadway and Doug was the lead in "Peter Pan" at the Detroit Institute of Arts.
Davy stayed small and got famous, while Doug followed suit and did the same, only taller.
At age four in his hometown of Oak Park, Michigan, Doug "got the news" watching Elvis on the Ed Sullivan TV show. He ran to the bathroom to seek hair oil and a comb to emulate his new idol. "You can't comb your hair like that. They'll arrest you," was his father's stern warning. And it took. Doug didn't take on a rock & roll look until 1964, prompted, again, by rock & rollers on the Ed Sullivan show. He was only twelve but knew he had to have a guitar like George Harrison's. His little sister Beth and big brother Geoff looked on in astonished admiration as a determined Doug held his breath and pounded on the floor.
Actually it was simpler than that. His parents, Bernard, a noted labor lawyer, and June, a dynamic union organizer for the Michigan Federation of Teachers, were quick to indulge any artistic bent in their children. They gave in quickly to Doug's request for a Gretsch Country Gentleman and launched, unknowingly, millions of record sales and a career for their middle child.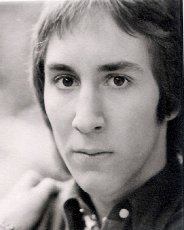 In his senior year in high school Doug formed a band, Sky, with another Detroit native and equally young musician, John Coury. Although underage, they were good enough to snag regular gigs at a local rock venue, the Grande Ballroom where they opened for icons of that g-g-generation such as The Who, Joe Cocker and Traffic. Not lacking temerity, Doug wrote a letter to The Rolling Stones producer, Jimmy Miller, in England saying, "If you're ever in Detroit, come see my band." Defying the odds, Miller countered with the offer "If you'll pick me up at the airport, I'll come see your band." Miller traveled to Michigan, signed Sky to RCA Records and produced two albums, Don't Hold Back and Sailor's Delight. Doug was on his way, (and not just back to the airport).
But things don't always happen linearly. The albums were warmly received but didn't sell well. So after (the) Sky fell, Doug, now living in Los Angeles, bounced around music jobs for much of the 1970s, including being hired, and then laid off, as part of the Carpenters road show, and joining the German progressive rock band Triumvirat as bassist. In 1978 he was bassist for The Rats when they were signed to Ariola Records, and an album was issued, under the neonym The Sunset Bombers. Unfortunately for the Bombers, during this same time, Doug's side project with a couple of other journeymen session players in L.A. really started to gel. The Knack, consisting of Doug, Berton Averre, Prescott Niles and Bruce Gary, hit the stages of Hollywood running.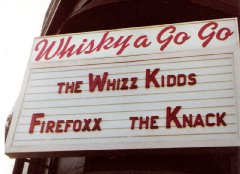 Although rejected by every major record label, the group's impact was immense, and immediate. Crowds jammed in to their weekly Troubadour gigs, and stars (Bruce Springsteen, Stephen Stills and Tom Petty among them) jumped onstage to join them. The year was 1978 and thanks to a fad known as Disco the Top 40 charts were as devoid of rock and roll as 1952 (the year of Doug's birth) – and the Knack showed the way back home.
Capitol Records saw the error of their ways and won the bidding war. The Knack's debut album, Get the Knack, went gold in only eight days and sold more than six million copies worldwide. The single from that album, "My Sharona", held the No.1 spot on the Billboard charts for more than 5 weeks and was the #1 song of 1979. Fame and fortune followed.
So did three more albums – …but the little girls understand, Round Trip and Serious Fun – and the band's inevitable fragmentation. In the early 80′s the Knack's killing concert and recording schedule began to take its toll on Doug's health. And adding to that the psychological strain of catcalls from critics unable to understand (as the little girls did) the band's worldwide appeal, he fell into a nearly fatal period of substance abuse. In 1983 he managed a turnaround. As ambitious in recovery as he was in music, he devoted a large part of his remaining 27 years to the spirituality and self-awareness necessary to stay on a sober path, and to helping other musicians find that path as well.
When the 1994 motion picture Reality Bites used "My Sharona" in a soon-to-be classic scene it reminded the public exactly how much they loved that song, critics be damned. Not surprisingly, interest in The Knack was reignited. The band reformed and re-approached the music world, but Doug kept a steady hand with his work helping others.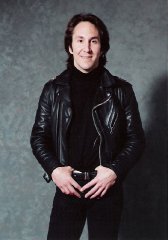 In 1998 the Knack signed to Rhino and put out an album that he considered their masterpiece, ZOOM. Two more Knack projects followed, Normal as the Next Guy and Live from the Rock & Roll Funhouse, released on Doug's own label, Zen Records. The group continued to tour throughout the first decade of the new century, but Doug's only forays into the studio were for solo projects which were never distributed commercially (that is, until now, on this website) and to helm the reissue of the first four Knack albums on Capitol.
His death on Valentine's Day, 2010, from the metastasis of lung cancer that spread to his brain, and then his body, was a great loss to the many friends, fans and people whose lives he had touched. As the end neared, he shrugged and felt grateful that he had led a good life and had tried to do good for other people. Surrounded by loved ones during the last days, he accepted what he couldn't change with words he lived by, "It is what it is."
His ashes, today, reside informally in Paris, Big Sur, Maui, and his own backyard.
- Art Fein, Sofein.com