Get The Knack to Get Vinyl Reissue
Posted on Wednesday, November 30th, 2016 at 12:25 am by Jim Falkenstein
This November 15th, Capitol Records kicked off its year-long 75th Anniversary Celebration with a red-carpet event at its iconic Sunset Boulevard building, with Berton and Prescott as special invitees. The celebration will not only include the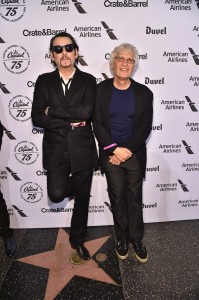 publication of a photo history book, entitled 75 Years of Capitol Records, in which The Knack will be commemorated, but also The Capitol Records 75th Anniversary Collection, a vinyl reissue program of 75 of the label's iconic album releases. And we couldn't be more thrilled to announce that Get The Knack will be among these deserving reissue titles.
This is welcome news to our devoted fans who have been waiting patiently for the album to get just recognition. We thank all the people at Capitol Records who helped make it happen.
To read more about the planned events and releases, click here.
This entry was posted on Wednesday, November 30th, 2016 at 12:25 am and is filed under Uncategorized. You can follow any responses to this entry through the RSS 2.0 feed. Both comments and pings are currently closed.