Berton's Musical Makes Chicago Debut
Posted on Wednesday, August 24th, 2016 at 12:24 am by Jim Falkenstein
Calling all Chicago Knackers (and any other fans interested in hitting the road to see Berton hit the boards)!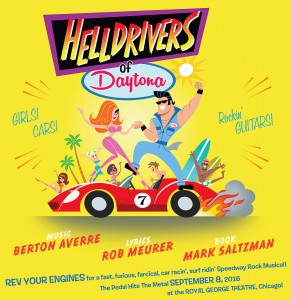 It is with tremendous pride we announce the world-premiere production of the pop rock musical Helldrivers of Daytona, with music by our very own Berton Averre!  Previews of the musical, which also features lyrics Rob Meurer and a book by Emmy Award winner Mark Saltzman, begin September 8, prior to an official opening September 12, at The Royal George Theater in Chicago.  The production is being billed as a "pre-Broadway tryout" and is produced by Natasha Davison (Gotta Dance, The Prom) and Richard Friedman (general manager at Theatre at the Center).
Directed and choreographed by Danny Herman with co-choreography by Rocker Verastique and musical direction by Linda Madonia, Helldrivers of Daytona is best described as a spoof of 1960s Elvis-style rock movies (think: "Viva Las Vegas.")  According to press notes, "tensions flare as drivers compete for the top slot in the 1965 Daytona Speedway Jackpot 500. Amidst a sea of tanned surfers, speedway groupies, motorheads and bikini babes, Lucky Stubbs must find a way to win his dream girl, Pepper Johnson, from rival driver Count Porcini Portobello, a dangerously enticing European hotshot. The race for love and glory is on in this, a ride that's fast, furious and funny."
The cast includes Samantha Pauly (Pepper Johnson), David Sajewich (Count Porcini Portobello) and Jeff Award nominee James Nedrud (Lucky) with additional performances by Trey Curtis, Aaron Davidson, Julia Rose Duray, Andres Enriquez, Claire Lilley, Rachel Melius, Leah Morrow and Chris Selefski, Cara Smith, Jerreme Rodriguez and Adrienne Storrs.
The production will feature set design by Scott Adam Davis, costume design by Brenda Winstead, lighting design by Denise Karczewski, sound design by Barry G. Funderburg and Mike Patrick, properties design by Brittney O'Keefe and stage management by Kristi Martens.
Performances will continue through October 30 at The Royal George Theatre, located at 1641 North Halsted Street in Chicago. For tickets, call (312) 988-9000 or visit www.ticketmaster.com.
For more information, including bios and to hear the soundtrack, visit: http://www.helldriversofdaytona.com/
This entry was posted on Wednesday, August 24th, 2016 at 12:24 am and is filed under Uncategorized. You can follow any responses to this entry through the RSS 2.0 feed. Both comments and pings are currently closed.