Toppermost of the Poppermost!
Posted on Friday, September 25th, 2015 at 11:47 pm by Jim Falkenstein
Proudly featuring The Knack on its cover and a foreword by Berton Averre, 
Play On! Power Pop Heroes: Volume Three
(Jetfighter/$39.97), the third installment of a five-volume series by best-selling author Ken Sharp, is now available for preorder.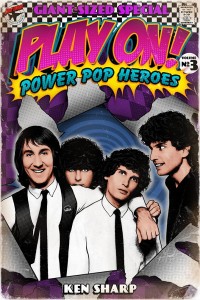 While the chapter on The Knack is easily its longest, the 581 page book culls exclusive extended interviews with 17 artists that defined the genre and honors the musical innovators who helped build the genre's foundation.  The publication is profusely illustrated with rare photographs and original handwritten lyrics, and buyers will also receive over 130 tracks of incredible bonus music (over a $130 retail value) of rare, unreleased and live music (including some by yours truly).
This entry was posted on Friday, September 25th, 2015 at 11:47 pm and is filed under Uncategorized. You can follow any responses to this entry through the RSS 2.0 feed. Both comments and pings are currently closed.