Berton and Prescott are "Rock Solid"
Posted on Friday, October 25th, 2013 at 12:16 am by Jim Falkenstein
Earlier this month Berton and Prescott sat down with Pat Francis and Jimmy Pardo for an interview on Pat's podcast, Rock Solid.  USA Today has called Rock Solid one of "Eight Great Music Podcasts", having hosted such guests as Melissa Ethridge, John Waite, and Marshall Crenshaw .  And now that list includes The Knack!
Ever wonder what song inspired Berton to write the famous "My Sharona" riff?  Then download the interview, Episode 120: Got The Knack, on iTunes, here, or on the Rock Solid website, here, and find out!
And please return the favor by following Rock Solid @RockSolidShow on Twitter (for a chance to win a signed copy of "Havin' a Rave Up: Live in Los Angeles, 1978") and liking them on Facebook .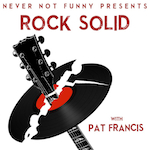 This entry was posted on Friday, October 25th, 2013 at 12:16 am and is filed under Uncategorized. You can follow any responses to this entry through the RSS 2.0 feed. Both comments and pings are currently closed.