Fieger/Averre Demos to be Released
Posted on Friday, August 10th, 2012 at 8:57 pm by Jim Falkenstein
Omnivore Recordings has announced they will release a new collection of rare and unreleased recordings by The Knack on September 11, 2012.  Consisting of demo recordings made in 1973 and 1975, The Knack Rock & Roll Is Good For You: The Fieger/Averre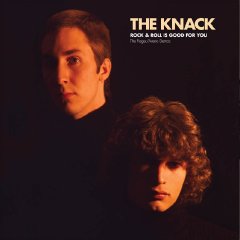 Demos takes listeners to the genesis of Doug Fieger and Berton Averre's songwriting and recording partnership – one that lasted nearly four decades until Fieger's tragic passing in 2010.
Fresh off the release of Record Store Day's sold out 10″ EP titled Live In Los Angeles, 1978 and full-length album Havin' A Rave-Up! Live In Los Angeles, 1978, Omnivore Recordings, in their continued association with Zen Records and the Estate of Doug Fieger, goes back even farther in time to tell the story of The Knack.  Complete with previously-unseen photos, liner notes, and sourced from the original 1/4″ tapes, the project will be available as a 16-track CD and digital album, as well as a 14-track vinyl LP (the LP will include a download card for the full 16-track CD/digital program). The initial LP run will be issued in a limited-edition run of 1000 pressed on clear vinyl, with future pressings to be made available on black vinyl. In addition, Omnivore Recordings will offer an exclusive LP/7″ single vinyl bundle available in a run of 500 copies in their web store only.  The 7″ features two unreleased tracks only found on this single("Midnight Misogynist" [recorded 1975] c/w "Lucy Ride" [recorded 1973]).
The Knack Rock & Roll Is Good For You: The Fieger/Averre Demos is a record Knack fans have not only been waiting for, but will fully embrace.  It is a fascinating look at how Doug's partnership with Berton helped steer a course from a more progressive 70′s sound to the power-pop The Knack used to break disco's hold on the airwaves with 1979′s "My Sharona."  These 16 tracks are all previously unissued and feature versions of songs known ("Good Girls Don't" and "That's What The Little Girls Do", eventually recorded and released on Get The Knack) and unknown. There are even songs Knack fans will recognize in different versions, reworked or rewritten for later projects. A riff here, a hook there – it's a scavenger hunt for some and a blissful pop experience for others.
We just think it's music that deserves to be heard!
For a complete track listing and to pre-order the CD and/or the limited-edition vinyl bundle please visit http://OmnivoreRecordings.com/artists/the-knack/.
This entry was posted on Friday, August 10th, 2012 at 8:57 pm and is filed under Uncategorized. You can follow any responses to this entry through the RSS 2.0 feed. Both comments and pings are currently closed.