Streaming Music Now on DougFieger.com
Posted on Wednesday, March 2nd, 2011 at 7:43 pm by Jim Falkenstein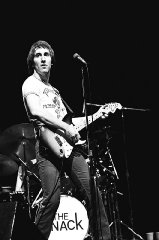 We have added a new section to our Home Page: Featured Song. Periodically we will be streaming selected tracks from Doug's catalog; some familiar, some completely new to you, possibly even some recently digitized rarities.
To launch this feature we have gone back to the beginning, Doug's roots, and chosen a title from his first album with Sky, "Make It in Time." You may notice that the lead vocals are by songwriting partner, John Coury, but it's not hard to pick out Doug's amazing high notes in the soaring harmonies.
Enjoy.
This entry was posted on Wednesday, March 2nd, 2011 at 7:43 pm and is filed under Uncategorized. You can follow any responses to this entry through the RSS 2.0 feed. Both comments and pings are currently closed.