Sky Albums Release Date Set
Posted on Sunday, March 20th, 2011 at 11:26 pm by Jim Falkenstein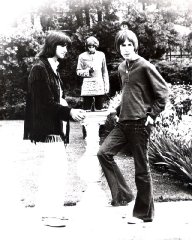 As many of you already know, the original release date planned for the two albums Doug recorded with Sky, has long since passed.  We appreciated your patience during this time as we took the steps to verify that RCA (and Sony) could no longer claim the rights to these recordings.  We are thrilled to announce today that our efforts have paid off and Don't Hold Back and Sailor's Delight will be released online, worldwide, on April 12, 2011, on the Zen Records label.  The albums will also be available on burn-to-order CDs through Amazon's CreateSpace division, complete with the original artwork and some new images in packaging designed by Greg Allen, of Greg Allen Photography & Design.
When we originally approached Greg to help design the Sky digital releases he mentioned that Doug had always intended to re-release these albums.  It feels good to know that we're still carrying out Doug's wishes down here and that somewhere up there he is surely smiling.
A Personal Note from the Site Administrator (aka Doug's Sister) About Sky:
If you will allow me to step out of the editorial "We" for a moment, I would like to tell you how satisfying this turn of events has been.  This project – the re-release of the Sky albums – has been a true labor of love for me.  While  all of you may remember Doug as inextricably linked to The Knack, my memories of his music go back further… to the days with his first band at twelve years old (The Royal Jammers, how's that for a cool name?) and then rehearsing with Sky in our basement in Oak Park, Michigan.  I loved those days, and not just because my house was filled with cute boys with long hair.  I remember it as a time when Doug was filled with the purest passion for rock and roll; a time when there was nothing but his dreams and the wide world ahead of him.
Before they were even released on vinyl I knew every word to every song on Don't Hold Back as well as I knew "She Loves You."  It is not surprising, therefore, that while I love The Knack, Sky will always hold an even more special place in my heart.
But Sky wasn't just a good band for a bunch of teenagers.  They were a good band, period.  Their music is as valid today as it was forty years ago.  But obviously you might think I'm a bit biased.  On April 12th I hope you'll let me prove it to you.
This entry was posted on Sunday, March 20th, 2011 at 11:26 pm and is filed under Uncategorized. You can follow any responses to this entry through the RSS 2.0 feed. Both comments and pings are currently closed.