Interview with Rob Stawinski of Sky
Posted on Sunday, March 20th, 2011 at 11:27 pm by Jim Falkenstein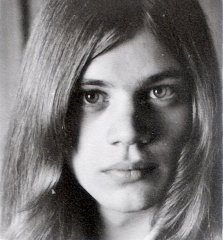 For any fans out there eager to learn more about the history of Sky, here's an interview with the drummer, which first appeared online in 2004 in Tom Brennan's Badfinger Library.
Rob Stawinski Interview
by Tom Brennan
October-November, 2004
Rob Stawinski was the fill-in drummer for Badfinger (replacing Mike Gibbins) in the summer of 1972 for the group's American tour [for more info, see Badfinger In Concert, 1972]. Rob now plays drums for Bobby Lewis and the CrackerJack Bandin the Michigan area. In this exclusive interview, Rob dug deep (more than 30 years) into his memory to answer some questions via e-mail about his first band, "Sky", and about the summer of 1972 he spent touring with Badfinger…
Tom Brennan: Who started the band and thought of the name "Sky"? Was it "The Sky" or "Sky"?
Rob: It was "Sky", and it was put together by Doug Fieger* and John Coury. I'm not sure who thought of the name, but my guess would be Doug. (*later of The Knack)
TB: On the first Sky album "Don't Hold Back", there's another drummer listed, Bob Greenfield, and also "thanks to Alan White". Did you join late in the album sessions or something? What happened?
Rob: I was contacted by the band about a week or so after they finished "Don't Hold Back", so I didn't play on it at all, but my name and picture are on the album cover because that was the band that was going to promote the album and record the next one. They didn't want any confusion over who was in the band. I think Alan White got a credit because he played some percussion on that first record.
TB: Were Doug Fieger and John Coury English or American?
Rob: John and Doug were both from the suburban Detroit area.
TB: Why were Sky's LPs recorded in England?
Rob: We were signed to Jimmy Miller's production company and he was producing us, the Rolling Stones, and a few other groups. On the first album, he had a scheduling conflict, so Gary Wright produced most of the sessions. Gary had other things going on in England, so Sky went to London to record. On the second album, Jimmy had a conflict again, so part of the album was recorded in L.A., because that's where we were living at the time; those sessions were produced by the band and Andy & Glyn Johns, then we met up with Jimmy at Mick Jagger's castle in Stargroves, England and finished it. [Note: The Who recorded "Won't Get Fooled Again" in Stargroves] I was about seventeen and was pretty floored by the whole thing.
TB: What other bands influenced Sky's music the most?
Rob: I can only speak for myself, and at the time Elton John's first American release had just come out and I loved it. I was also a huge Beatles and Led Zeppelin fan.
TB: Why is there a note on the "Don't Hold Back" LP that says "certain portions of this album may not be suitable for broadcast purposes."?
Rob: There's a song on that record called "How's That Treatin' Your Mouth Babe?" and in the early '70s, RCA was kind of concerned about the lyrics. Today, no one would care.
TB: I noticed some session players on the Sky albums (Jim Price, Bobby Keys, Doris Troy and Gary Wright) also played with George Harrison. Did you ever meet any of The Beatles or work with them?
Rob: I think George Harrison was at one of Badfinger's shows in England in the spring of '72 and I met John & Yoko at a benefit concert in Ann Arbor, Michigan [December 10, 1971].
TB: Which Sky album is your favorite (Don't Hold Back or Sailor's Delight)?
Rob: Since I didn't play on "Don't Hold Back", I'd have to say "Sailor's Delight". I'm kidding. There are quite a few songs I like off of "Don't Hold Back" but they're totally different albums.
TB: Which Sky song is your favorite?
Rob: I don't have one. There are quite a few that I really like.
TB: Did Sky only record 2 LPs for RCA?
Rob: Yeah, that was it.
TB: When, how and why did Sky break-up?
Rob: It was the summer of 1971 and we had just finished mixing "Sailor's Delight". Sales for the first record weren't going that well and Doug & John weren't getting along that well. Plus, we were all very young; I was just 17, Doug was 18 and John was 19. We couldn't handle the pressure and we needed a break. So we split up, which I think was a mistake. There was still some interest in the group; I think if we could have held it together for another one or two records, we would have had a chance at being very successful. We tried to reform a few years later, but it never worked out.
_______________________________________________________________
If you want to read the full interview, including information about Stawinski's days touring with Badfinger, click here.
This entry was posted on Sunday, March 20th, 2011 at 11:27 pm and is filed under Uncategorized. You can follow any responses to this entry through the RSS 2.0 feed. Both comments and pings are currently closed.