The Knack's Doug Fieger lives on – online
Posted on Tuesday, October 5th, 2010 at 4:54 pm by Jim Falkenstein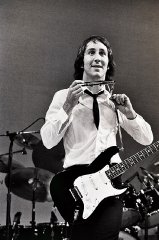 Doug Fieger, leader of The Knack and co-writer of one of the best rock songs (and picture sleeves) with "My Sharona," died earlier this year at a far-too-young 57. His friends have banded together to launch a new official website for Fieger at DougFieger.com.
Besides tributes from the likes of Ringo Starr, Elliot Easton, Don Was and more, it makes Fieger's solo release, "First Things First," available digitally for the first time ever. A round of applause for those who took the time, effort, grace and care to honor his career.
- Mark C. Brown from MSN.com – Read full article.
This entry was posted on Tuesday, October 5th, 2010 at 4:54 pm and is filed under Uncategorized. You can follow any responses to this entry through the RSS 2.0 feed. Both comments and pings are currently closed.