Richard Bosworth on Hankerings
Posted on Thursday, October 28th, 2010 at 1:12 am by Jim Falkenstein
When I met Doug in1989 I knew I'd met a kindred spirit in all things "Beatle". Now after twenty one years and having produced, recorded and mixed five Knack albums and an album for the group Mystery Pop with Doug, I was thrilled to find he had been working on an album of Hank Williams songs in the last years of his life. Alas he only had time to do four songs.
When Doug's sister, Beth, told me about it and that there was a reel of two inch tape that no one seemed to know what exactly was on it, she asked me to try to mix it for release. I jumped at the chance to work with Doug again. I booked time at House of Blues Studio, where Doug and I had worked together many times. Looking at the track sheets for the recordings I realized that they were sixteen track which is the analog format with the highest fidelity, so that was exciting.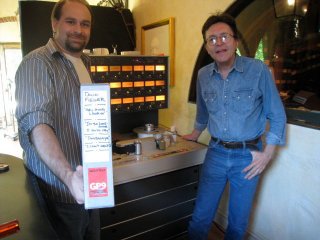 Putting up the tapes I quickly realized that Doug had recorded blistering rockabilly versions of Hank's "Hey Good Looking" and "Jambalaya" and heart felt ballad versions of "I'm So Lonesome I Could Cry" and "I Can't Help It If I'm Still In Love With You", all with awesome vocals sung by Doug. However I also quickly realized that "Hey Good Looking" was the only track ready for mixing, as it had lead guitar solos played by Doug's and my dear friend, Elliot Easton of The Cars (great work Elliot!). I knew I had to do additional recording on the other three tracks, and as I was already in the studio I had to move fast.
I called up Doug's partner in The Knack, Berton Averre, who is one of the best musicians I know and has the ability to play guitars, keyboards on any style of music you throw at him. Berton overdubbed additional rhythm and lead guitars on all three unfinished tracks and added acoustic piano on "I'm So Lonesome", (great work Berton!).
I now had four great tracks to mix. And this is the result! These songs were a joy to complete and I'm so happy with the result. Music Supervisors should take note: these tracks would be great for a film! Thanks to Doug's family for the chance to work with my friend and partner again.
- Richard Bosworth
This entry was posted on Thursday, October 28th, 2010 at 1:12 am and is filed under Uncategorized. You can follow any responses to this entry through the RSS 2.0 feed. Both comments and pings are currently closed.