Doug Fieger arrives online
Posted on Monday, October 4th, 2010 at 8:29 pm by Jim Falkenstein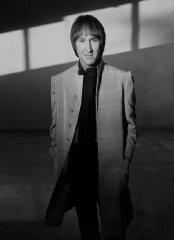 October 5th is an exciting day in the lives of all Doug Fieger fans.
Firstly, dougfieger.com comes online as the official site and online home of all things Doug. Filled with unseen photography & video, tributes from fans & friends and an extensive discography – it truly is the one place to go to find out any and everything about the man and his music.
Speaking of his music, October 5th sees the digital release of his 1999 solo album – First Things First. Co-produced with Don Was, it contains a virtual who's who of classic musicians: Billy Preston, Jim Keltner, Nicky Hopkins, Benmont Tench, Jeff "Skunk" Baxter, Ray Manzarek and more. It is also the first in a series of new digital products from Doug's musical legacy, including his unheard Hank Williams tribute – Hankerings – which will be available for the first time anywhere in November.
- Lee Lodyga
This entry was posted on Monday, October 4th, 2010 at 8:29 pm and is filed under Uncategorized. You can follow any responses to this entry through the RSS 2.0 feed. Both comments and pings are currently closed.